Mark moved to Calne in the late '60s at the tender age of two years old. After leaving home to travel the world and getting as far as the Isles of Scilly, Mark returned to his home town to settle down. He is married to the beautiful Alison and has three sons.
Mark became Calne Town Crier in January 2008 following the sad passing of the previous Town Crier, John Bridges. Mark had been the Deputy Town Crier since May 2007 after he won a competition to find a deputy for John, who had decided to take a year off for health reasons.
Mark spent the first couple of years in the post performing his duties around the town and at formal Town Council occasions. Then, toward the end of 2009, the Town Clerk informed Mark that he was to host Calne's first ever Town Criers Competition the following summer! Mark had never even competed before, so to have his first experience of a competition be hosting one in his home town was a daunting prospect!
Mark joined the Ancient & Honourable Guild of Town Criers and was honoured to have a new set of clothing provided for him by the council, which he helped design. Mark was inspired by the colours of the Calne Town Flag, which had recently been inaugurated following a competition to design a flag for the town. The winning design, which Mark proudly wears as a back patch on his over coat has green to represent the geography surrounding Calne, blue to represent the River Marden flowing through the town, a white stripe representing the chalk in the downs (and a nod towards the Wiltshire flag, which contains green and white stripes) and a gold circle representing the discovery of oxygen by Joseph Priestley, who was living in Calne at the time.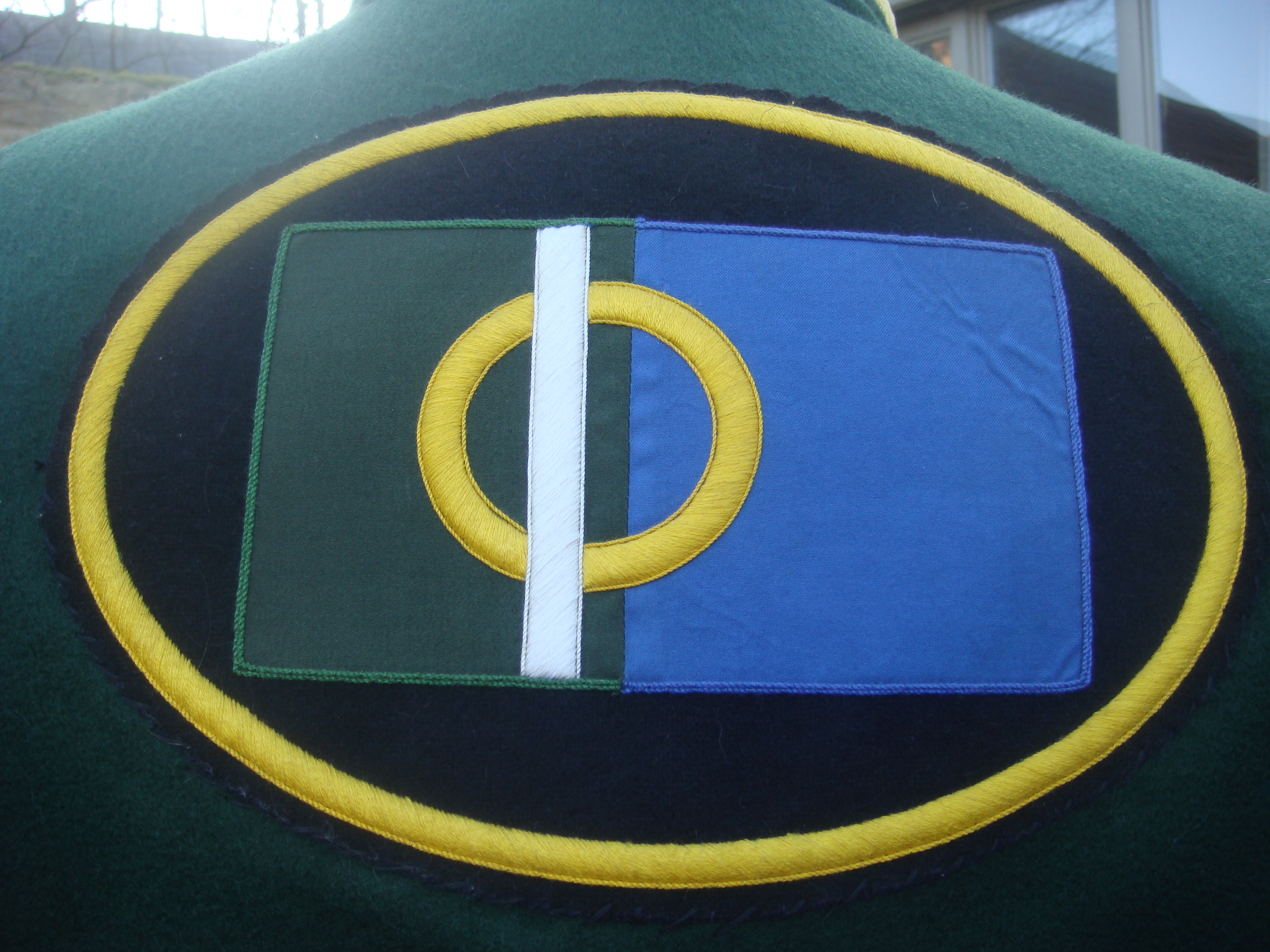 On the strength of his performance hosting the competition, Mark was invited by Peter Dauncey, town crier of Melksham, to compete at the Melksham competition just two weeks later. Mark came fourth at that competition and was duly invited by Maurice Jones, town crier of Fairford, to compete there a few weeks later. Mark was delighted to win that competition, only his second ever. He has since gone on to great success in competitions all over the country, becoming UK National Champion in 2012 – at the first time of asking – and the Ancient & Honourable Guild of Town Criers Champion in 2013. In April 2015, Mark became the Commonwealth Champion by winning the Bermuda International Town Criers Competition, which he was delighted to win again in 2017.
If you ask Mark what being Calne's town crier means to him, he will talk of his duty to the town where he grew up. He believes in performing his role as Calne Town Crier and representing Calne at competitions and other events around the country, in that order. Added to that, he has made some very great friends among town criers and their consorts and enjoys spending time in their company. If he wins a trophy or two along the way, that's a bonus!